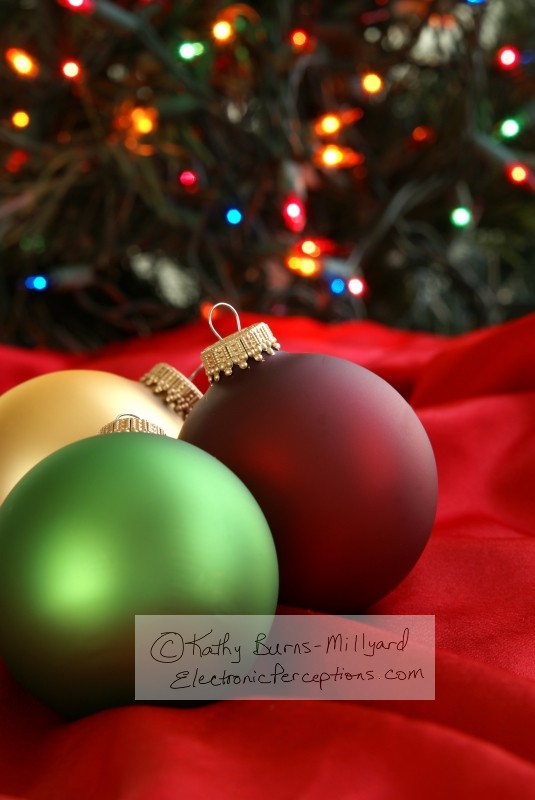 Nature understands the importance of sparkle, particularly in winter, when the landscape is bewitchingly monochromatic. Think of the tiny rainbows glinting on an icicle or the sugary sparkles in snow, then imagine how flat everything would look without the twinkle. Indoors, the glittering edges and muted hues of winter can be wonderfully evocative. They can remind you of a frosty Christmas morning long ago. They can call to mind the romance of a fresh snowfall, even if you live in the tropics.
A table starts to shine the moment you set out your crystal and china, but to make it truly glitter and glow, why not add some real glitter? The best kind to use is made from ground Mylar and looks like colored sand. It can be ravishing when sprinkled like a dusting of snow on objects from nature, such as nuts and pinecones. Silver and gold glitters are use on a table clothed in winter whites, but glitter comes in a wide variety of colors. You can use one color alone, or blend two or three together to create exactly the tone you want. To dull the brilliance of silver glitter for example, add some pewter granules. There are also larger-grain glitters, which come in a variety of sheens and can even be translucent; just don't mix them with fine-grain glitter.
Too much glitter can seem garish, so it's best to use glittered decorations sparingly, like a potent spice. Glittered nuts look magical when mixed with unembellished nuts and painted silver leaves in a clear-glass or crystal dish for example.
Working with glitter can be messy, so spread out craft paper or paper towels before you begin – you don't want every surface in your house to sparkle.
Gilding is the lustrous companion to glitter. Gilded decorations, such as the artificial fruit used in centerpieces, gleam with a sleek and polished finish. You can wrap almost any smooth surface in a thin layer of metallic leaf, which is affixed with an adhesive and then burnished with a brush or soft cloth. You can cover polystyrene fruit in silver leaf, aluminum leaf, and green-mint and aqua metallic leaf – all of which are icy, luminous colors to lighten the season's dark days. Metallic leaf usually comes in "books" made up of twenty-five paper-thin "leaves" in one of numerous sizes. Silver leaf is 3 3/4 inches square.
Aluminum leaf measures 5 inches square. And colored metallic leaf imported from Japan, sold in books of one hundred, is 4 5/16 inches square. Although true silver leaf tarnishes, it will retain its polish for years if treated with a sealant such as Ronan Acrylic Clear Overcoat.
Touches of glitter and gilding can go almost anywhere. You can hang large glittered pinecones from a silver sconce, set gilded fruit in a greenery wreath, and tie your "silver" wishbones onto little gifts. The fun of glitter and gilding, after all, is that it can surprise us – and a winter home should be filled with surprises, wonder, and joy.
©2007, Kathy Burns-Millyard.